PEPPER Fonts in Microsoft Word
In Microsoft Word, the font names are shown using the font. This is bad news for the PEPPER fonts, since capital letters are used for diacritics. The PEPPER Proportional font shows up in the font list as
; the PEPPER CP5e font shows up in the font list as
. Because the fonts need extra space above the characters for possible diacritics, only the top half of the letters are shown.
For PEPPER sans Diacritics, things are a little better since being without diacritics, the capital letters are treated the same as lower case letters. It comes out as
.
The fonts are listed in alphabetical order so you should find them among the other fonts that start with "P".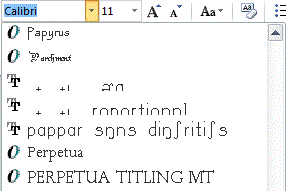 For diacritic placement above or below a phoneme in MS Word, you must turn on "kerning" . Click on
at the lower right of the Fonts box on the toolbar:

to bring up the Font Dialog. Click on the Advanced tab and turn on Kerning. Then click OK.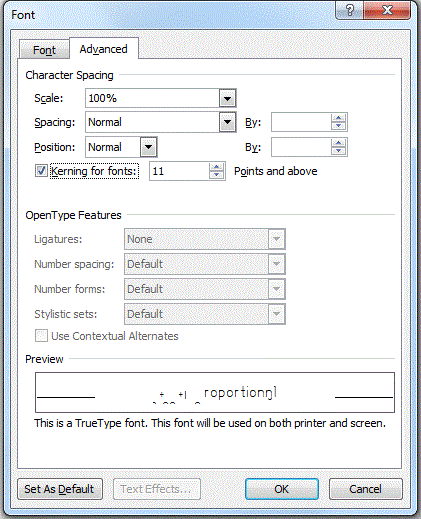 To get the right characters for the " and ' keys in the PEPPER fonts, you must turn off smart quotes. Click on File at the upper left and turn on Options. In the Word Options window, click on Proofing and then click the AutoCorrect Options…button. Click on the "Auto Format As You Type" tab. Make sure "Straight quotes with smart quotes" is turned off. The "Ordinals (1st) with superscript" should also be turned off. Click OK. Click OK again.